Sport Court History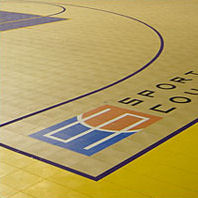 In 2005, two industry leaders in the world of sports flooring merged to form Connor Sport Court International, Inc. (CSCI). Connor Sports Floors, founded in 1872 and the largest supplier for wood sports flooring systems, came together with Sport Court, which created the backyard game court business in 1974, to create the widest and most versatile sports flooring product line in the industry.
Connor Sport Court operates from a state of the art 90,000 square foot production plant in Salt Lake City, Utah, and an ISO certified lumber mill in Amasa, Michigan, producing a wide range of products. Our new 70,000 square foot highly-advanced distribution center in Salt Lake City gives us the ability to inventory significant levels of market leading products, allowing us to offer superior service to our customers.
Connor Sports Floors was founded in 1872 and is the market leader in wood sports flooring systems. Connor has built maple hardwood courts for 14 NBA teams and countless numbers of NCAA schools and universities, with products for every level of competition — from park and rec centers to high schools to the top college basketball programs in the country. In fact, Connor is proud to be the exclusive supplier of the championship floors for both the men's and women's NCAA Final Four.
All Connor floors are ISO-certified and DIN and STEM tested. We are a charter member of the Maple Flooring Manufacturer's Association (MFMA) and the first member of that group to be certified by the Rainforest Alliance.
Sport Court, Inc. was founded in Seattle, Washington in 1974. The operations were moved to Salt Lake City, Utah in 1979 where the company has operated continuously since that time, and has become world famous as the leader in modular sports flooring.
The centerpiece of Sport Court's business was the backyard game court, on which a variety of outdoor sports and recreational games can be played, including basketball, volleyball, badminton, tennis, shuffleboard and roller hockey.
The key to Sport Court's early success was the development of a unique, patented, modular playing surface that is colorful, durable, and impervious to moisture and weather.
These modular tiles also feature the proprietary Lateral Forgiveness™ system, which lessens the risk of injury, decreases fatigue and reduces stress to knees and joints. The vertical suspension properties of the tiles provide protection and energy-return for competitive activity with consistent playability.
In addition to the outdoor modular systems, Sport Court has developed solid-top modular systems for indoor gymnasiums, roller hockey rinks, garages, decks, and special event covers. Sport Court® has more than 50,000 installations worldwide, including installations for over 50 NBA coaches and players, including such notables as Shaquille O'Neal and Larry Brown, and other sports figures, such as Chris Collinsworth, Dick Vitale and Mohammed Ali.
Both Connor and Sport Court have a long tradition of affiliations with national and international governing bodies for sports. Connor is the Official Floor of the NCAA Final Four basketball tournament, and Sport Court is the Official Flooring Supplier to the NCAA Volleyball Championships. In addition, USA Volleyball, the U.S. Soccer Foundation and a number of international sports organizations have all made Sport Court their "Official Floor". Sport Court is the only supplier to have its floors approved for outdoor use by the official international governing body for basketball – FIBA. It's little wonder why more athletic events are played on Connor Sport Court surfaces than on any other sports flooring in the world. Sport Court® is a registered trade mark of Connor Sport Court International. It is used to identify the original and authentic modular sport surfaces developed and introduced in 1974.